About us
We are a creative web design agency who are passionate with our pixels. We specialise in WordPress theme development and we create pixel perfect themes.
Who we are?
Collaboratively administrate empowered markets via plug-and-play networks. Dynamically procrastinate B2C users after installed base benefits. Dramatically visualize customer directed convergence without revolutionary ROI.
What we do?
Efficiently unleash cross-media information without cross-media value. Quickly maximize timely deliverables for real-time schemas. Dramatically maintain clicks-and-mortar solutions without functional solutions.
Why we are good?
Completely synergize resource sucking relationships via premier niche markets. Professionally cultivate one-to-one customer service with robust ideas. Dynamically innovate resource-leveling.
Meet the team
We provide design services that will adapt to your need. Get a fully responsive site so your content will always look good on any screen size.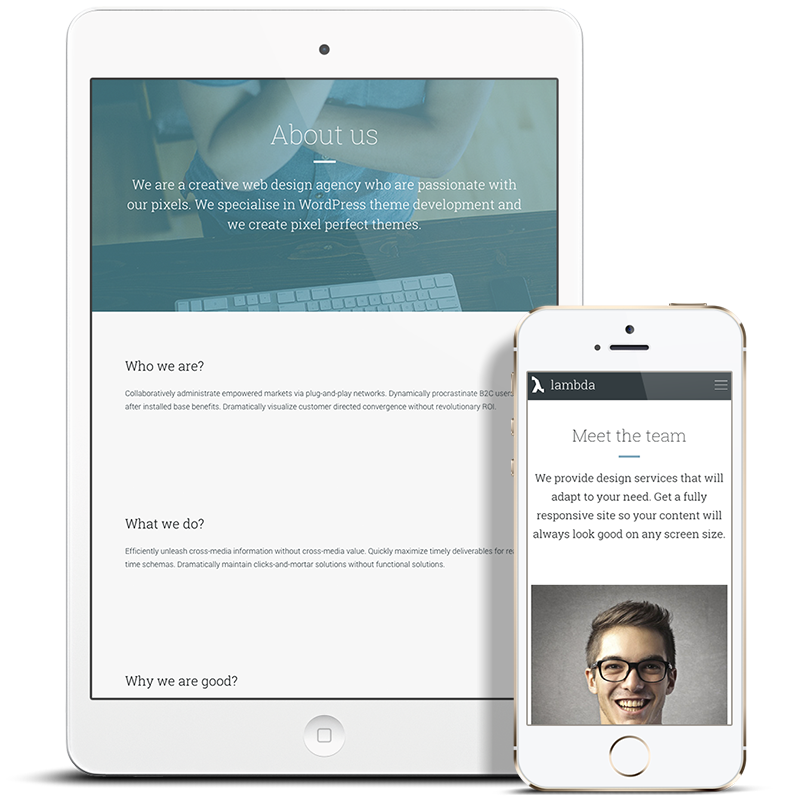 Our Skills
Soothed again, but only soothed to deeper gloom, Ahab, who had sterned off from the whale, sat intently watching his final wanings from the now tranquil boat. For that strange spectacle observable in all sperm whales dying—the turning sunwards of the head, and so expiring—that strange spectacle, beheld of such a placid evening, somehow to Ahab conveyed a wondrousness unknown before.
Content Management Systems
Customer Service & Support
Why they love us
We are completely crazy in love with our projects. We work closely with our clients to ensure that they will get what they want.
This theme is super easy to customise and the support team is just awesome. They helped me add a few design and styling changes and guided me to customise my theme. They were very knowledgable and fast. Thanks again! This is the best theme and support money can buy!
After purchasing all of the top rated theme I find this theme to be the most intuitive. Everything is right where it's supposed to be and makes use of the best plugin combinations I have ever seen. Truly, there are no words to describe how happy I am with this theme! Recommended
Lewis put significant effort into really ensuring they captured the essence and feel of a New Look store and translated it into a website design that is unmistakably identifiable as a part of the New Look brand.
Regulus was a natural choice for us given the company's heritage in retail and experience working with brands both on and offline. It intrinsically understood our challenge and vision, and the creative execution proposed confirms we have made the right decision.
About Us